St Fidelis offers a range of learning opportunities that fall outside the realm of normal curriculum.  An extracurricular activity is designed to enhance the students' social, academic, creative or intellectual learning. Some examples of what is offered at St Fidelis are:
Spiritual

Academic

Social Justice Program
Sacramental Preparation
New Foundation Parent Reflection Evening
Mass Participation
Alter Service
Classroom Masses

Personalised Learning
Inquiry Learning
Excursions/Incursions
Camps Year 5/6
Premier's Reading Challenge
Gateways

Sporting

Student Wellbeing

Cricket
Cross Country
Athletics
Interschool Sports (Summer/Winter)
Representative Sport
Netball

Buddy Program
Foundation Transition Program
Anti-Bullying Initiatives

 

The Arts

Leadership

Creative Music
Book Week Activities
Italian Poetry Competition
Art Show
Learning Expos
Participation in local ANZAC Day RSL Ceremony
Choir

House Leaders
School Captains
Social Justice Leaders
Library Leaders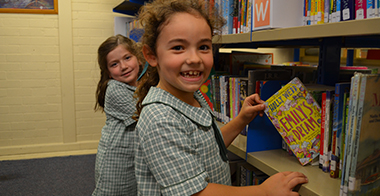 Enrol at St Fidelis today...
Our purpose at St Fidelis is to provide
the very best in Catholic education
for the children of today.