As designers of curriculum, we endeavour to foster students' wonder and curiosity about the world around us using the process of Inquiry. At St Fidelis, we employ the Inquiry Model which was researched and written by expert Inquiry Educational Consultant, Kath Murdoch. Students are supported and encouraged to take ownership of, think deeply about and reflect on their continuous learning. We unpack the Learning Assets of self-manager, collaborator, researcher, thinker and communicator and promote their embedded life skills.
This inquiry approach places students' questions and ideas at the centre of the learning experience. Inquiry Learning is driven both by student interest and the demands of the Victorian Curriculum and is characterised by students:
Asking questions, building on prior knowledge and making their own discoveries
Finding out information from primary sources to answer generative questions leading to the development of deep conceptual understandings
Making connections between ideas, learning domains and experiences.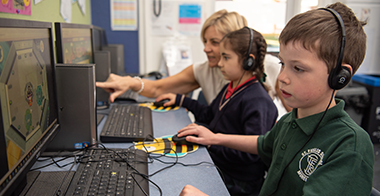 Come and see learning in action...
We welcome you to come on a school tour and see our vibrant school community and learning in action.