Mathematical concepts such as Number and Algebra, Measurement and Geometry and Statistics and Probability are all taught in line with the Victorian Curriculum, but at St Fidelis we aim to provide students with the mathematical ideas, knowledge and skills that they will draw on in future in their personal and work lives.  We encourage students to become self-motivated, confident learners in this space through inquiry and active participation in challenging and engaging experiences.
In line with this aim we:
Collaboratively plan and implement a structured and comprehensive mathematics program
Use ongoing assessment to inform our teaching and plan for individual student needs
Pose questions where children are challenged, thinking, reasoning and communicating
Develop and enhance children's number sense and understanding of number concepts and operations through a whole school mental computation approach
Encourage children to talk about their learning during maths activities
Provide opportunities for children to reflect on their learning through sharing and reflection time at the conclusion of each lesson
Use materials and technology to support children in their learning
Link mathematics to real life experiences and investigations.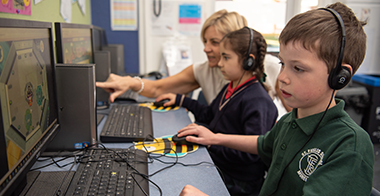 Come and see learning in action...
We welcome you to come on a school tour and see our vibrant school community and learning in action.