At St Fidelis Primary School all students participate in a weekly physical education lesson conducted by a specialist teacher. Physical Education lessons at St Fidelis Primary School are designed to:
Educate our students in, about and through movement
Develop the knowledge, skills, understanding and motivation necessary to be confident to participate in games and physical activities
Provide enjoyable experiences to promote healthy, active lifestyles into the future.
At St Fidelis Primary School, students are given the opportunity to build on the knowledge, skills, attitudes and values gained through the physical education program by participating in our sport education program.
Annual Sports Carnival
At St Fidelis all students have the opportunity to participate in our Annual School Sports Carnival which focuses on team games promoting team work and fair play.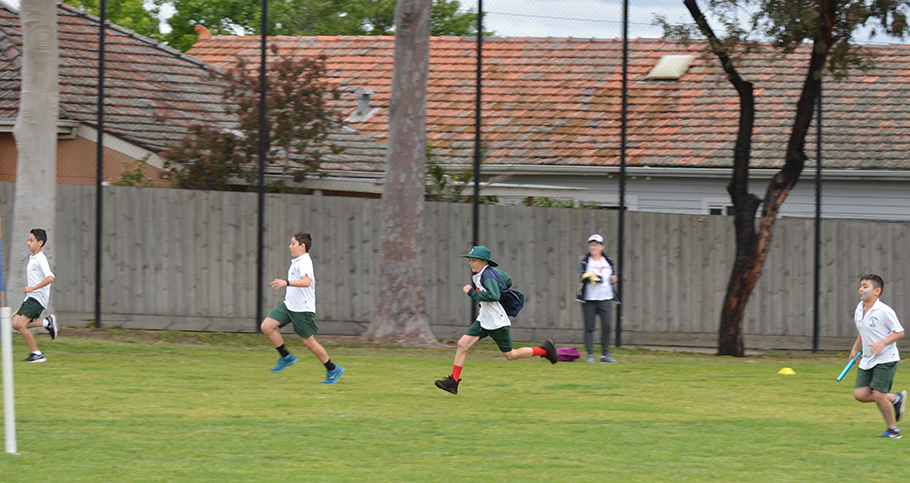 School Sports Program
The sport program is a part of physical education that includes the development of sport skills, an understanding of the origins and rules of various sports and an appreciation of codes of behaviour.
Junior school students participate in a range of physical activities with their peers in pairs, small groups and as a whole class to focus on co-operation, consideration of others in games and play, following rules and procedures, and the safe use of equipment and space.
Middle school students participate in an 'intra-school' weekly sport competition where they apply the motor skills (learnt during physical education lessons) to specific modified sports. During 'Sport' the students continue to develop their understandings of the concept of fair play and respect for all participants (team, opponents and officials).
Upper school students participate in intra-school and inter-school sport.
St Fidelis Primary School is an affiliated member of School Sport Victoria's (SSV) Coburg District. During the year, our Year 5/6 students have the opportunity to participate in a variety of sports against schools within the Coburg District as follows:
Term 1: Basketball, Softball & Bat Tennis
Term 2: Australian Rules Football, Soccer & Netball
Term 4: T20 Blast Cricket
Sports Australia
St Fidelis is a member of 'Sports Australia'. This membership gives our school the opportunity to apply for government grants to conduct the 'Sporting Schools' program.
The 'Sporting Schools' program for primary schools helps to provide a range of sporting programs that will increase children's interest and participation in sport. It also aims to create stronger links between children and local sporting clubs, nurturing a lifelong love of sport.
In 2019 we conducted a 5 week tennis program with our Year 3/4 students. Utilising the government funding provided, we were able to engage local professional coaching, purchase tennis racquets, balls and nets. It was a great success!
Into the future, we will continue to be involved as a member of 'Sports Australia' and utilise this initiative to further promote interest and participation in various sports and develop stronger links with our community.
Opportunities for our students to be involved with sports clubs are regularly advertised in our school newsletter.
Some existing links between our school and local sporting clubs are as follows: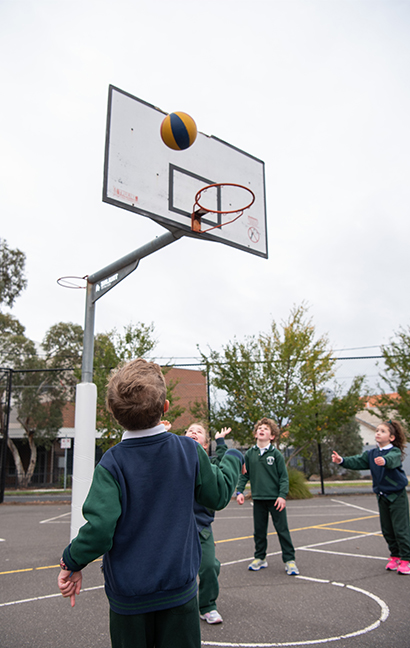 Basketball:
St Fidelis Basketball Club
The St Fidelis Basketball Club (also known as 'The Saints') is an independent club of the parish and school of St Fidelis. The St Fidelis Primary School and the parish of St Fidelis have no oversight or responsibility for the conduct of the St Fidelis Basketball Club, their members past or present, or their financial or legal business or the conduct of their members, families and supporters – present and past.

Football:
West Coburg Football Club
Coburg Football Club
Brunswick Junior Football Club
Coburg Districts Football Club

Cricket:
West Coburg Cricket Club
East Coburg Cricket Club
Coburg Cricket Club

Netball:
Athletics:
West Coburg Athletics Club
Moreland Athletics Club

Softball:
West Coburg Softball Club

Tennis:
Glencairn Tennis Club
West Brunswick Tennis Club
Coburg Tennis Club
Merlynston Tennis Club

Baseball:
Essendon Baseball Club
North Coburg Rebels Baseball Club
SVV Coburg District Sport
Years 3-6 students also have the opportunity to compete at SSV Coburg District sport carnivals as follows:
Term 1: Tennis & Swimming
Term 2: Cross Country Running
Term 3: Athletics
All competitions in the Coburg District provide students an opportunity to challenge and extend themselves by enabling successful individuals and teams to compete at division, region, state and national levels of School Sport Victoria (SSV).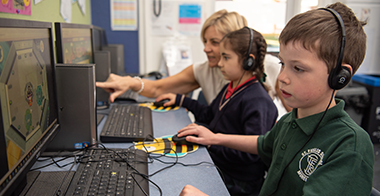 Come and see learning in action...
We welcome you to come on a school tour and see our vibrant school community and learning in action.