About our School
St Fidelis' Catholic Primary School has a proud tradition of providing quality Catholic education for over ninety years in the Moreland area. It is located approximately 10 kilometres from the central Melbourne CBD, in an area well serviced by public transport and adjacent to the Tullamarine Freeway. The school grounds are located in a well-established, primarily residential zone.  We utilise a range of local facilities including Shore Reserve, Dunstan Reserve and Cross Keys Reserve.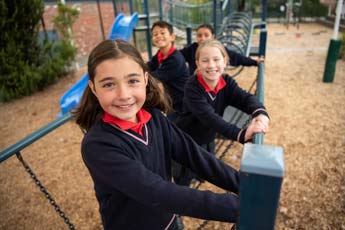 Enrol at St Fidelis today...
Our purpose at St Fidelis is to provide
the very best in Catholic education
for the children of today.
Testimonials
St Fidelis looks at nurturing the whole child, and it is the strong focus on social justice and faith, and thinking and caring for others that we are really impressed with. The teaching staff are enthusiastic, engaged, and always approachable, and there is strong leadership.
We could not be happier with St Fidelis Primary School. We have 2 children at the school, and love the sense of community, belonging, and inclusivity. My children love going to school!
With an strong emphasis on the school community as a whole, our children have thrived during their time at St Fidelis, becoming confident young learners, well prepared to embark on the next stage of their school life in the higher years.
The teaching facilitates include a separate Senior Learning Area that helps to foster a feeling of leadership and confidence amongst the older year levels of the school. Recent refurbishments and upgrades are of a very high standard, particularly the newly commissioned STEM learning area, which aims to further encourage the students to become critical and creative thinkers.
St Fidelis is a wonderfully nurturing school that provides good pastoral care to all its students. The teaching staff show immense dedication and are led by an enthusiastic and caring Principal who greets the students every morning in the school yard with a warm and welcoming smile.
Our experience with St Fidelis Primary School as a family has been an invaluable blessing.
The individual focus of each childs' learning and wellbeing, the development and focus on the school offering the best environment and curriculum for the kids, plus the ongoing support of all the teachers and staff makes it a very positive and happy and place for our kids and families.
I have been a parent of a St Fidelis student for over 7 years now and can honestly say that we feel part of a very special school and parish community.  Even through this hard year dealing with home learning due to Covid 19, the staff have connected with students in so many great ways with many different initiatives but also supported parents though it all so smoothly.
St Fidelis Primary School is a special place to be because the energy, love and passion of the teachers and staff substantially improves the community. This school has made amazing efforts to support my children and provide them with a fun and rewarding learning environment. It fosters an innovative approach to education that not only nurtures the education but also the creativity of children.