In making decisions about enrolment, St Fidelis Primary school will normally take the following into account:
Baptised Catholic children residing in the Parish, with priority being given to children whose parents are active members of the parish.
Unless exceptional circumstances exist, the school will offer places to brothers and sisters of children currently enrolled in the school.
Baptised children resident in other parishes. Consultation with the Parish Priest and/or Principal of the school of the Parish where the child resides may occur.
The Parish Priest, in consultation with the Principal, reserves the right to alter and accept applications in accordance with this policy, considering the guidelines of the Catholic Education Office and local pastoral considerations.
Enrolment Form, birth certificate and immunisation certificate are to be presented before an enrolment can proceed.
Applications for Foundation enrolment are accepted by the School office for consideration by the Principal and Parish Priest.
Enrolments are now open for 2021!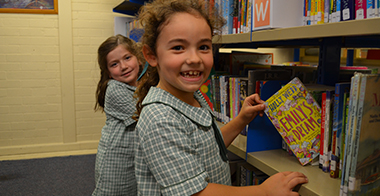 Enrol at St Fidelis today...
Our purpose at St Fidelis is to provide
the very best in Catholic education
for the children of today.