At St Fidelis our focus is on enabling our students to be active learners who are highly engaged in authentic learning where skills are developed and are transferable. Our goal is to prepare learners to be collaborative problem solvers who strive to contribute to the common good in today's world.
Our priority is in providing an environment that is safe and challenging and develops children intellectually, physically, socially and spiritually – empowering them to be active in leading their own learning.
Inquiry Learning
As designers of curriculum, we endeavour to foster students' wonder and curiosity about the world around us using the process of Inquiry. At St Fidelis, we employ the Inquiry Model which was researched and written by expert Inquiry Educational Consultant, Kath Murdoch. Students are supported and encouraged to take ownership of, think deeply about and reflect on their continuous learning. We unpack the Learning Assets of self-manager, collaborator, researcher, thinker and communicator and promote their embedded life skills.
This inquiry approach places students' questions and ideas at the centre of the learning experience. Inquiry Learning is driven both by student interest and the demands of the Victorian Curriculum and is characterised by students:
Asking questions, building on prior knowledge and making their own discoveries
Finding out information from primary sources to answer generative questions leading to the development of deep conceptual understandings
Making connections between ideas, learning domains and experiences.
STEM Innovation and Design Space
The opening of the NEW STEM Innovation Space in Term 4 2020 was a welcome addition to the St Fidelis students and teachers. After the COVID lockdown, the students were introduced to this exceptional facility and it is hard to imagine St Fidelis without it.
As learners, the students have the opportunity to build their skills as collaborators, researchers, thinkers, self-managers and communicators in an environment that supports inquiry learning. Students have the opportunity to explore their project-based learning and focus on finding solutions to problems in an imaginative, creative and collaborative way.
The STEM innovation Space serves many purposes such as a Robotics Centre, a design space, Green Screen filming studio, a construction area, a space to learn about computer animation, a place to learn coding skills and programming skills just to name a few.
Students in Foundation to Year Two engage in a one hour weekly lesson with our specialist Digital Technologies teacher and their classroom teacher and use their very own ®LEGO Coding Express Kit where they learn coding concepts, such as sequencing and looping.  They are also introduced the BEE BOT an exciting friendly little robot for teaching sequencing estimation, problem solving and just having fun.
St Fidelis Students win at the STEM MAD Showcase!
A huge congratulations to our STEM MAD (Making a Difference) Showcase winner Emily M. (3/4), and Luca S. from Year 3/4, Chloe P. (3/4) and Demetrous M. (5/6) who made it to the finals. We could not be more proud.
The STEM MAD Showcase aims to address real-world problems and demonstrate how students in Catholic schools take action that matters and was an incredible experience for the students.
We were lucky enough to have Emily's and her classmates STEM MAD journey, our amazing STEM specialist Mr Joe Frazzetto and the St Fidelis STEM Program and STEM MAD finalists featured in a video by MACS. Watch it below.
English
In line with this aim we:
Collaboratively plan and implement a structured and comprehensive literacy program F-6 with explicit teaching of knowledge and skills in Reading, Writing and Oral Language
Integrate literacy where possible in our inquiry units to ensure our experiences are real, hands on and challenging for our students
Provide literacy support to classroom teachers and students to improve teaching and learning
Use ongoing assessment and tracking of students to inform and plan for individual student needs
Provide explicit, focused teaching which builds on student's strengths and targets the developmental needs of individual students
Encourage the transference of literacy skills into all curriculum areas.
Mathematics
Mathematical concepts such as Number and Algebra, Measurement and Geometry and Statistics and Probability are all taught in line with the Victorian Curriculum, but at St Fidelis we aim to provide students with the mathematical ideas, knowledge and skills that they will draw on in future in their personal and work lives.  We encourage students to become self-motivated, confident learners in this space through inquiry and active participation in challenging and engaging experiences.
In line with this aim we:
Collaboratively plan and implement a structured and comprehensive mathematics program
Use ongoing assessment to inform our teaching and plan for individual student needs
Pose questions where children are challenged, thinking, reasoning and communicating
Develop and enhance children's number sense and understanding of number concepts and operations through a whole school mental computation approach
Encourage children to talk about their learning during maths activities
Provide opportunities for children to reflect on their learning through sharing and reflection time at the conclusion of each lesson
Use materials and technology to support children in their learning
Link mathematics to real life experiences and investigations.
Digital Technologies
Digital Technologies are integrated throughout the curriculum at St Fidelis. Our use of these technologies plays an integral role in transforming our students into learners who are equipped to manage the demands of the 21st century.
Our Foundation to Year 2 students use desktop computers and tablets in the classroom to support and enhance their learning. Beebots (robots) are used to sequence, estimate, measure, problem solve and code.
Our Year 3 to 6 students use a combination of desktops, laptops and tablets to access their Google Apps for Education (GAFE) accounts to enhance their learning. The students use the Dash Robots and coding programs such as 'Scratch' to encourage a higher order of thinking to be applied to problem solving and code algorithms.
Physical & Sport Education
At St Fidelis Primary School all students participate in a weekly physical education lesson conducted by a specialist teacher. Physical Education lessons at St Fidelis Primary School are designed to:
Educate our students in, about and through movement
Develop the knowledge, skills, understanding and motivation necessary to be confident to participate in games and physical activities
Provide enjoyable experiences to promote healthy, active lifestyles into the future.
At St Fidelis Primary School, students are given the opportunity to build on the knowledge, skills, attitudes and values gained through the physical education program by participating in our sport education program.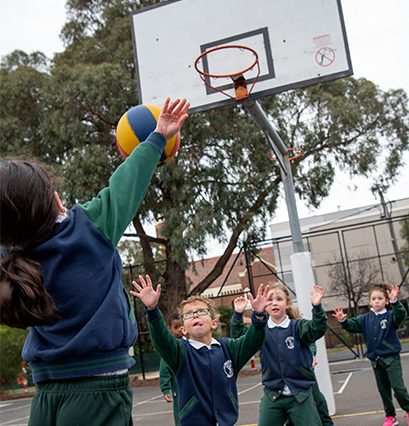 School Sports Program
The sport program is a part of physical education that includes the development of sport skills, an understanding of the origins and rules of various sports and an appreciation of codes of behaviour.
Junior school students participate in a range of physical activities with their peers in pairs, small groups and as a whole class to focus on co-operation, consideration of others in games and play, following rules and procedures, and the safe use of equipment and space.
Middle school students participate in an 'intra-school' weekly sport competition where they apply the motor skills (learnt during physical education lessons) to specific modified sports. During 'Sport' the students continue to develop their understandings of the concept of fair play and respect for all participants (team, opponents and officials).
Upper school students participate in intra-school and inter-school sport.
St Fidelis Primary School is an affiliated member of School Sport Victoria's (SSV) Coburg District. During the year, our Year 5/6 students have the opportunity to participate in a variety of sports against schools within the Coburg District as follows:
Term 1: Basketball, Softball & Bat Tennis; Term 2: Australian Rules Football, Soccer & Netball; Term 4: T20 Blast Cricket
SVV Coburg District Sport
Years 3-6 students also have the opportunity to compete at SSV Coburg District sport carnivals as follows:
Term 1: Tennis & Swimming; Term 2: Cross Country Running; Term 3: Athletics
All competitions in the Coburg District provide students an opportunity to challenge and extend themselves by enabling successful individuals and teams to compete at division, region, state and national levels of School Sport Victoria (SSV).
Annual Sports Carnival
At St Fidelis all students have the opportunity to participate in our Annual School Sports Carnival which focuses on team games promoting team work and fair play.

Sports Australia
St Fidelis is a member of 'Sports Australia'. This membership gives our school the opportunity to apply for government grants to conduct the 'Sporting Schools' program.
The 'Sporting Schools' program for primary schools helps to provide a range of sporting programs that will increase children's interest and participation in sport. It also aims to create stronger links between children and local sporting clubs, nurturing a lifelong love of sport.
In 2019 we conducted a 5 week tennis program with our Year 3/4 students. Utilising the government funding provided, we were able to engage local professional coaching, purchase tennis racquets, balls and nets. It was a great success!
Into the future, we will continue to be involved as a member of 'Sports Australia' and utilise this initiative to further promote interest and participation in various sports and develop stronger links with our community.
Opportunities for our students to be involved with sports clubs are regularly advertised in our school newsletter.
Some existing links between our school and local sporting clubs are as follows:
| Basketball | Football | Cricket | Tennis |
| --- | --- | --- | --- |
| | | | |
| Netball | Athletics | Softball | Baseball |
| --- | --- | --- | --- |
| | | | |
*The St Fidelis Basketball Club (also known as 'The Saints') is an independent club of the parish and school of St Fidelis. The St Fidelis Primary School and the parish of St Fidelis have no oversight or responsibility for the conduct of the St Fidelis Basketball Club, their members past or present, or their financial or legal business or the conduct of their members, families and supporters – present and past.
Extra Curricular
St Fidelis offers a range of learning opportunities that fall outside the realm of normal curriculum.  An extracurricular activity is designed to enhance the students' social, academic, creative or intellectual learning. Some examples of what is offered at St Fidelis are:
Spiritual

Academic

Sporting

Social Justice Program
Sacramental Preparation
New Foundation Parent Reflection Evening
Mass Participation
Alter Service
Classroom Masses

Personalised Learning
Inquiry Learning
Excursions/Incursions
Camps Year 5/6
Premier's Reading Challenge
Gateways

Cricket
Cross Country
Athletics
Interschool Sports (Summer/Winter)
Representative Sport
Netball
Student Wellbeing

The Arts

Leadership

Buddy Program
Foundation Transition Program
Anti-Bullying Initiatives

Creative Music
(download the Instrumental Tuition Program)
Book Week Activities
Italian Poetry Competition
Art Show
Learning Expos
Participation in local ANZAC Day RSL Ceremony
Choir

House Leaders
School Captains
Social Justice Leaders
Library Leaders
Multi-Age Classes
From Year 1, our classes are multi-age structured. This means that our Year 1s and 2s are in mixed classes, as are our Year 3/4s and 5/6s. Multi-age classrooms are not to be confused with composite classes where students are often separated according to their year level and taught to separate curriculum content.
At St Fidelis we recognise that age is irrelevant when it comes to child development and achievement. Regardless of the child's age, we use many assessment tools and measures to establish what each child knows and needs to know in order to structure their learning accordingly.  Students are placed in fluid groups across many subject areas in order to better target their next learning steps.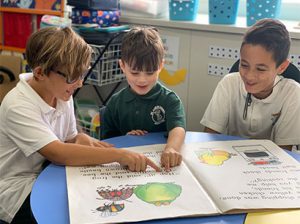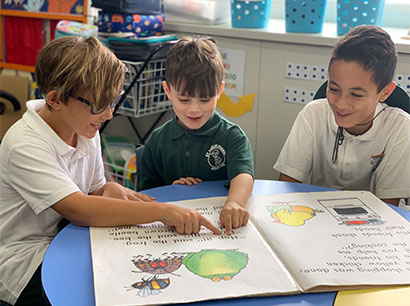 The multi-age approach has benefits beyond the academic. The mixed aged class gives younger children the chance to benefit from the positive models of older children and aspire to their levels of capability. At the same time, the older children rise to the expectations of the younger children and teacher, giving them the opportunity to lead, demonstrate responsibility and use their experience and expertise.
Education in Faith
At St Fidelis we are committed to nurturing and supporting our students through their academic education. We are guided by our strong sense of faith which allows us to bring together many aspects of life and integrating them into the education we provide for our students.
We encourage the celebration of faith through our daily interactions with each other, and encourage our students to develop an understanding of the relevance of their faith in their world by making connections from their learning.
We achieve our aims by employing the Victorian Curriculum, Archdiocese of Melbourne Religious Education Curriculum Framework and Caritas education resources.
We provide opportunities for our students and our community to explore their faith through Whole School, Year Level and Classroom Masses, dedicated Prayer times, Social Justice opportunities, Sacramental programs and Parenting in Faith Programs.
Always and everywhere faithful is our motto which captures the basis of who we aim to be. At St Fidelis, we provide learning experiences encompassing the celebration of our faith through life, education, scripture, liturgy and tradition.
St Fidelis School Prayer
Dear Lord,
Please help us to make St Fidelis
a friendly place where everyone
will feel that because we
love and care about you,
we love and care about them as well.
Help us to smile back
when people smile at us,
to give help when people
need it and most of all,
help us to accept
each other as we are.
AMEN