Welcome to St Fidelis Primary School in Moreland.
I wish to extend you and your family a very warm welcome to our school.  I am honored and privileged to be the Principal of St Fidelis School, a co-educational primary school where we believe that Catholic school communities like ours are most effective when the community works together to educate the whole child emotionally, academically, socially and spiritually. This supports our philosophy that the student is at the centre of everything we do.
Our strong sense of Catholic Identity means that we value spirituality, building and maintaining community and living out the Gospel through providing a nurturing, inclusive and strong sense of pastoral care for all students. We aim to ensure that scripture is central to our Religious Education program and that we celebrate and learn about our Catholic traditions and demonstrate our learning through everyday actions.
My staff and I believe in developing authentic relationships with all our students, their families and the wider community. Our small class sizes allow for personal engagement and a sense of belonging. Our school community is incredibly vibrant, welcoming and engaged. We pride ourselves on providing a learning environment where our students can thrive.
To learn more about St Fidelis, please browse our website or contact us for a tour of our learning community or to ask any questions.
I look forward to welcoming you and your family to St Fidelis.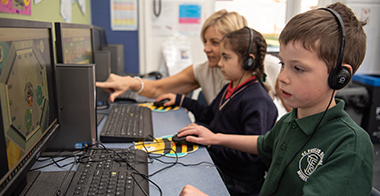 Come and see learning in action...
We welcome you to come on a school tour and see our vibrant school community and learning in action.