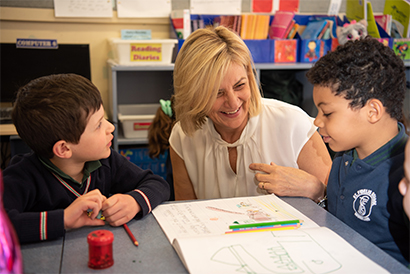 Our purpose at St Fidelis is to provide the very best in Catholic education for the children of today. We strive to provide learning spaces for personalised and cooperative learning that prepare children for a future of lifelong learning. We are committed to ensuring success in the key competencies of literacy and numeracy, as well as an inquiry approach to learning. We engage the expertise of Inquiry Education Consultant Kath Murdoch to build the capacity of all learners within the community. We unpack the Learning Assets of self-manager, collaborator, researcher, thinker and communicator and promote their embedded life skills.
St Fidelis' Catholic Primary School has a proud tradition of providing quality Catholic education for over ninety years in the Moreland area. It is located approximately 10 kilometres from the central Melbourne CBD, in an area well serviced by public transport and adjacent to the Tullamarine Freeway. The school grounds are located in a well-established, primarily residential zone.  We utilise a range of local facilities including Shore Reserve, Dunstan Reserve and Cross Keys Reserve.
The school has two main buildings – one on Saunders Street and the other on
Hawthorn Street with our administration office located in Saunders Street building. There are 18 class spaces, including an art room, STEM innovative learning space integrated with a library resource space, a multipurpose hall and a gymnasium.  There are three main playground areas, which were extensively refurbished in 2014/15 and two adventure playgrounds. All the utilised classrooms have air-conditioning and heating. The school buildings and surrounds are well maintained and provide a safe, inspiring and nurturing learning environment for the students and staff.
Our specialist programs – Visual Arts, LOTE (Italian) Music and Physical
Education – complement and enhance our English, Mathematics and Religious Education core curriculum programs. Technologies both design and digital are fully integrated into the learning and teaching program across all curriculum and levels from Foundation to Year 6.
Parent engagement is an important aspect of school life. We are a friendly, open and supportive school community that works together to provide many opportunities for students to achieve success and develop self-esteem. We welcome the opportunity to collaborate with parents with the aim of developing their children spiritually, academically, physically and emotionally.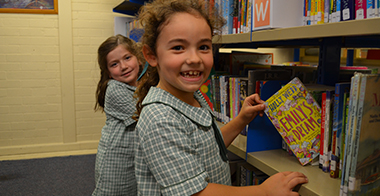 Enrol at St Fidelis today...
Our purpose at St Fidelis is to provide
the very best in Catholic education
for the children of today.